10 Wallet-friendly Tips for an Enjoyable Vacation
Always wanted to travel but unable to do so because you can't afford it? There are ways to have a cheap vacation and not compromise on having a great time exploring another country. All you need to do is some research and have the willingness to be a little more adventurous during your travel.
#1: Travel During Off-Peak Season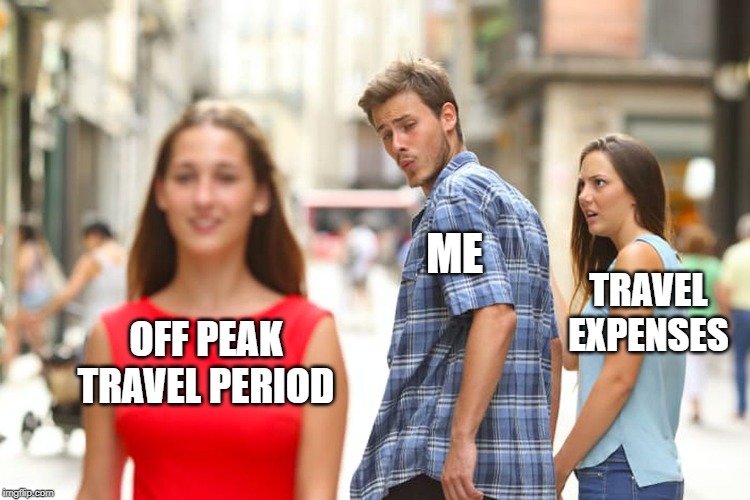 Plan your travel dates wisely; off-peak seasons are the best times for budget travels! Avoid travelling during school holidays and other major holidays; this gives you the leeway to save money on airfare, accommodation and other travel expenses that can be considerably cheaper during off-peak seasons.
#2: Use A Budget Airline
One of the major expenses of travelling is airfare, but if you use travel fare aggregator sites like Skyscanner or Adioso, you will be able to compare travel fares from various airlines to make a decision that fits your budget and travel plans. Opt for a budget airline as a luxury flight would eat up a large chunk of your travel budget. Also, don't be shy to claim any flyer points or promotions to get a cheaper rate.
#3: Choose Your Destination Wisely
Where you choose to travel will make a big difference to your travel budget, choosing a country that has a higher exchange rate will put a dampener on your allocated funds for travel. Try to choose a destination that can offer a reasonable rate for your home currency so you can afford the travel basics without going broke. Also, your destination has to be able to offer you good travel experience; you would not want to waste your time travelling to a location where your interests do not align with what the place has to offer.
#4: Don't Spend A Fortune On Accommodation
Hotels cost an arm and a leg these days, and if you are planning to travel alone, then there are many cheaper options you can consider for your vacation lodging. One of the keys factors of having an affordable travel experience is the money you can save from spending on accommodation; you can try to book hostels, vacation homes or look for cheap hotel deals from sites like Agoda. Airbnb is also a good option to consider, and this also gives you a way to connect with the locals in the area of your travel, adding a local touch to your otherwise 'Googled-to-death' itinerary.
#5: Pack Light
Most budget travellers miss this part. Travelling light is key due to how much you can save on luggage fees and the ease of travel you get as you don't need to pay for larger transportation to accommodate your things. Pack clothing that can be easily rewashed, especially if you rent Airbnbs. Most of them are equipped with a washing machine and dryer. Make use of them to your advantage instead struggling with the weight of your luggage throughout the trip.
#6: Eat Local
Instead of spending money on fancy restaurants, eat where the locals dine! Get the most of your travel experience by researching good local eateries and save a ton of money on your budget vacation. You get to experience the local cuisine, connect with the locals and eat good food for cheap. This is one of the ways to make great travel memories and get the most out of your vacation.
#7: Cheaper Ways To Get Around
Travelling is key when visiting a new destination and you can save a ton of money if you opt for alternative transportation like walking, renting a bicycle or motorcycle or using the local bus. Avoid taxis and tourist buses as these can be expensive and you would probably see and experience more on your own by walking or using the local bus. However, certain countries with extensive public transport services offer special deals such as travel passes (from daily up to a week or two or even more). You can check out these deals on travel sites such as Klook for a start. Save on individual tickets and get the pass instead.
Also, if the country has good road systems and is safe for pedestrians, then walking is the best option. You don't have to spend any money, and you get to explore more during your walk around the city.
#8: Hunt for Coupons And Deals
Before you leave for your cheap vacation, do some searching online and hunt for deals, coupons or promotions that can help to reduce any costs when you land at your travel destination. If you have membership points that are claimable, don't miss these out as any extra money you save can help to make your budget travel experience better. Savings of any kind on accommodation, travel, and food would help to channel the saved money to other expenses you might have during travelling.
#9: Shop Local
Do not be tempted to shop at touristy places, especially those that are recommended over and over again in every travel brochures, online blogs or TripAdvisor.
Dig deeper, research and seek out where the locals shop. Learn how to bargain as this is an important skill to have if you plan to have cheap vacations on a frequent basis and you get a sense of achievement when you are able to buy something for a lower price. But beware of local customs as it might not be customary to do so in certain countries. Always do your research first and learn the local culture of the country you're visiting.
#10: Explore Free Sites
Museums, historic sites and other tourist-centric attractions have expensive tickets or admissions. Try to search for exhibitions or explore parts of the city that is free or moderately priced. Also, look for bargain prices for entrance ticket, especially if you are a student and have a student card. Websites like Klook and Voyagin also offer discounted tickets, so it might be worth your time scouring through the internet for better deals before deciding to buy on-site.
Finally, if you really want to visit an attraction with a pricey admission fee, do your research beforehand and make sure it is worth the value of money you are spending.
Bonus Point!
And last but not least – do not forget your travel insurance! Make sure you are sufficiently covered before going on your holiday. The most expensive mistake you can make on your holiday is to travel without one. Go on the flight and enjoy your holiday with a peace of mind, and that's the most financially-wise thing you can do for your family and yourself.